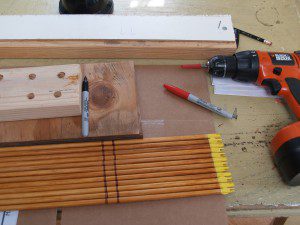 Last night I started cresting the new arrow shafts. My cresting is more for an indication of brace height than for design aesthetics. The forward mark is at 7.5″ from nock throat to show recommended brace height for this bow to the pivot point, or deepest part of the grip. The rearward mark is where the shelf should be in relation to the 7.5″ brace height.
I steadied the shafts against my wooden drying stand, and spun them using a hand drill, with a short piece of exercise band (from my physical therapy on my shoulder – thanks compounds). I let the black, then the red sharpies lay lines onto the arrow shafts as they spun between my fingers and the 2X4 block.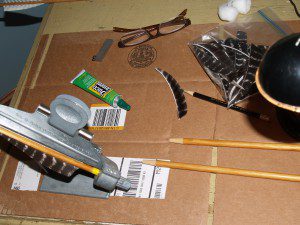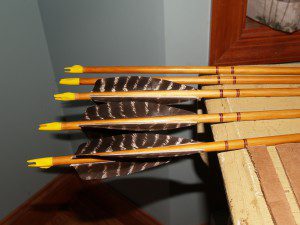 I crested all 12 shafts, cut five of them to 29 7/8″ and the then set to fletching up 3 arrows with natural barred turkey feathers using a Bitzenburger RW helical fletching jig and Duco household cement.
I cut point tapers onto the five arrows I plan to start tuning with (3 fletched and 2 bareshafts) using a 3 Rivers Archery 11/32 nock taper cutting tool which works like a handheld pencil sharpener.
Tomorrow morning, I'll attach some 125 gr tips using Easton hot-melt glue and by tomorrow afternoon the 48 year-old Shakespeare recurve should be flinging some arrows.