March is winding down and it is time to get serious about Spring Gobbler hunting. I recently acquired a vintage Bear Kodiak Hunter recurve and just finished building a set of wooden arrows to shoot from her.
The Bow
I was lucky enough to pick up this mid-70's era Bear Kodiak Hunter recurve – a 60″ AMO bow rated at 51# @ 28″ – for a song. The string was shot, there was a site drilled and screwed to the bow and it was covered in black guck.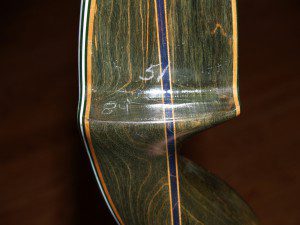 I ordered up a new flemish twist string from stilldub over on eBay and removed the old rug rest and strike plate. This revealed the original 51# DW rating of this 50# – according to the visible factory marking on the handle – bow. I used an isopropyl-soaked paper towel, and a gentle finger nail here and there, to get it all cleaned down. I filled the drill holes using tooth picks and 2-part epoxy to within 1/16″ of the surface, then topped off with white acrylic and green/black color matching acrylic mix respectively. Then I punched holes in electricians tape to mask the fill spots so I could seal them with a couple swipes of clear nail polish. I installed a new rug, side plate and beaver fur string silencers. I located the silencers at the 1/3 up and 1/4 down locations on the new string.
Good to go.
The Arrows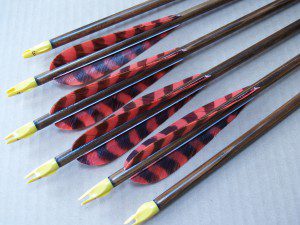 I've had a half dozen 11/32″ cedars laying around that are just a shy week for my 51# longbow which is fitted with a high performance Fast Flight string. I figured these would be better suited to this matching weight bow with Dacron string. I stained the shafts using Minwax Dark English Wood Finish, and sealed them with 8 coats of rub-on Poly. I had some Tru-Flight feathers laying around that I had purchased from the classifieds on one of the forums a while back. I fitted the shafts with Classic Nocks, glued on the fletchings, and this morning put 125gr points on 2 fletched arrows and one bare shaft to do some initial tuning.
We'll see how it goes – but I'm feeling pretty ready to get shot in for turkey season now.